Ref:
Date:
Location:
Photographer:
[clikcontent type=paymentBuyLink replaceable=true]
Ref:
Date:
Location:
Photographer:
[clikcontent type=paymentBuyLink replaceable=true]
February 2011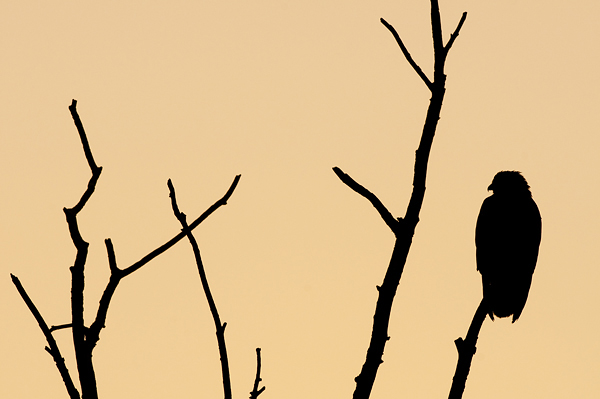 14/02/11
February 2011
Common Buzzard
Common Buzzards are called common because, well they're common. In recent times they can be seen virtually anywhere in Holland where there is open terrain. They can often be seen sitting on fence posts along the highway and are often referred to by birders and biologists as 'a fat chicken on a stick'. Being a trained ecologist and photographer I have a handicap. Ecologists and biologists are trained to value rare species and habitats more than the common ones. I sometimes have to make myself take the time to watch the behavior of 'common' species. Recently I've been observing buzzards. Above is an uncommon picture of a (common) buzzard warming up at sunrise in winter.
Nikon d300s and 200-400vr f9 iso 400 1/640
------------------------------------
(Gewone) Buizerd
De Buizerd is een algemene roofvogel. Vogelaars en biologen noemen ze weleens 'dikke kip op een stokje' vanwege het feit dat ze vaak op een paaltje naast de snelweg op de uitkijk zitten. Buizerds zijn tegenwoordig in Nederland erg succesvol omdat er hier relatief veel open landschap is en minder worden vervolgd. Vanwege mijn opleiding als ecoloog ben ik als fotograaf gehandicapt. Ecologen en biologen worden opgeleid met het idee dat zeldzaam gelijk staat aan waardevol. Kijk maar naar de gebiedsbeschrijvingen van grote natuurorganisaties waarbij die paar zeldzame (Natura 2000 en rode lijst) soorten de hoofdrol krijgen. Deze krijg je meestal alleen met veel geluk te zien. Ik heb mij voorgenomen om af en toe wat meer tijd te besteden aan 'gewone' soorten. Hierboven een ongewone buizerdfoto.
Nikon d300s en 200-400vr f9 iso 400 1/640